Yes, I am a "mostly sunny partly cloudy" person I guess. Or so I've been told. Well fine. Here's the partly cloudy part...if you can tolerate the negativity. My deepest apologies.
My grammy is back in the hospital
My car is retarded
My stupid school is saying I don't have enough credits to "be" a junior. I'm sick of getting screwed over.
I pulled my back yesterday opening my window. It hurt like hell.
I don't feel good. Can't eat anything without feeling nauseous and sore, and my chest hasn't stopped hurting since I ate last. I need to go to the doctor and do something about it (I don't particularly have time for this)

I'm sick of being short.....and single.

There, now that that's done.
The mostly sunny forecast:
Fiddler is fun
The weather has been nice
I got a freaking adorable bathing suit on sale!!!!
Pomeranians under $1000 do exist.
I am seeing the Sisterhood movie TOMORROW!!!
Summer IS looking up for the most part, and I'm loving it.

and....for today's forecast.

HAPPY BIRTHDAY COLIN

(our beyond fabulous music director, and my bestest friend

)!!!!! :-)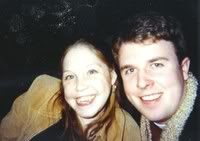 Yay! That does indeed make a good day.